Raising Awareness of DLD Around the World ​​​​​​​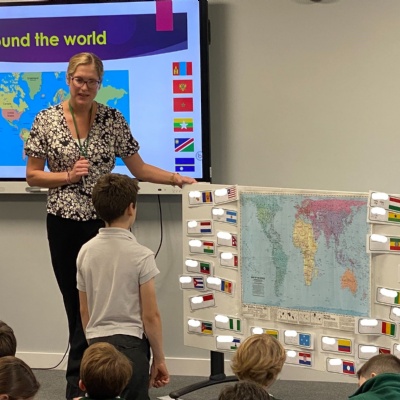 Students, staff and parents and carers at Moor House, a specialist School & College for children and young people with language disorders in Oxted, have once again been joining others in raising awareness for Developmental Language Disorder (DLD) Day today, Friday 20th October 2023
DLD is a hidden but common disability that affects 2 children in every class of 30, causing difficulties understanding and using language for no known reason.
Since it opened in 1947, Moor House has led the way in teaching and therapy methods for children with speech and language disorders, including DLD, with students making outstanding progress due to the life-changing and research informed education and therapy on offer. Through the work of our Research and Training Institute, we continue to be at the forefront of global research and training, taking the benefits of our work out more widely through published research, training and resources for professionals.
Now in its seventh year, #DLDday, coordinated by RADLD (Raising Awareness of Developmental Language Disorder), is celebrated across the world with more than 40 countries involved.
This year the theme is 'DLD Around the World', highlighting that DLD affects people regardless of age, gender, language spoken or ethnicity.
To mark the occasion, the Moor House community set off on a month-long virtual trek around the world. The challenge was launched with an annual sponsored walk, which raises money for the students' welfare fund, on Friday 29th September, before continuing throughout October. So far by combining our collective steps we have made our way through 19 countries. Click here see our progress.
In the lead up to DLD Day, Specialist Teacher Sue Marr appeared on Ridge Radio to talk all about DLD, whilst we were extremely proud that two of our students were invited by RADLD to be the voice of the UK, recording a video which was released specially for DLD Day.
Students also spent the morning raising awareness of DLD by writing postcards to other children around the world to let them know more about DLD and how it can be supported.
Other events included DLD themed assemblies, a coffee morning at our in-house coffee shop run by our college students, a special DLD Parent Workshop, a disco and a student takeover of our Facebook account.
Moor House Research and Training Institute Director Dr Susan Ebbels says: "At Moor House we're very proud of the support we provide to our students that enables them to grow and achieve their learning potential.
"However, there are millions of children around the world with DLD, whether diagnosed or not, who don't have access to the same level of support, which is why we are so passionate about raising awareness and sharing knowledge and expertise."
"DLD Day is a great opportunity for the whole Moor House family to come together and show our support for the wider DLD Community."