More space for food studies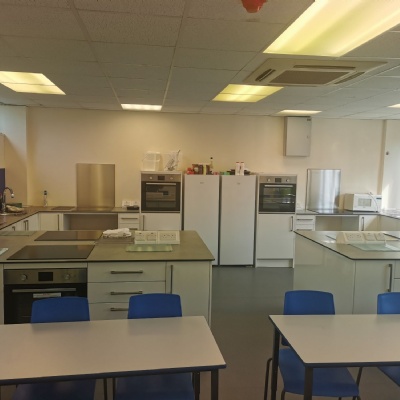 Students at Moor House are savouring extra space and upgraded cooking facilities following the relocation of the food studies classroom over the summer.
Improvement works, completed in time for the start of term earlier this month, enable students to benefit from a larger, ground floor classroom with improved access, a larger practical area with new worktops, surfaces and equipment, and a separate theory teaching space.
The project, which included stripping out the old food studies classroom and turning it into a standard classroom, was part funded thanks to a contribution from the Charles Lewis Foundation, who also supported our new Sensory Garden and Playground last year.
Moor House Bursar & Business Manager Jemma Kingham said: "Food studies is taught across all year groups here at Moor House and is a really popular subject option, so it was imperative that we addressed the issues with the old classroom.
"The new classroom provides a fit for purpose, well equipped room that can comfortably accommodate our bigger class sizes and which our students will benefit from for years to come."