Marvellous Mosaic Decorates Dining Room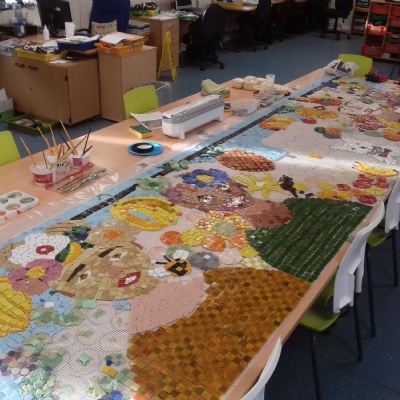 A colourful Mosaic created by students and staff is set to brighten the dining room for many years to come at Moor House.
With the support of renowned artist Oliver Budd, who helped create Mosaics already on display in the school reception, everyone in the School and College community was given the opportunity over three days last term to spend time cutting and sticking pieces to the giant artwork, which took inspiration from Carman Miranda's 'The Lady in the Tutti Frutti Hat'.
Art Teacher Bridgette Greig explained: "We wanted to create a really inclusive piece of work that everyone in the school and college could feel part of and a Mosaic is perfect for that.
"Our Year 7, 8 and 9 students were already creating some pieces inspired by Carman Miranda and we felt the bright colours and the fruit would be perfect for the dining room."
Having created the piece in five large sections, Mr Budd took it to his studio in Hawkhurst, Kent, where he spent a further four days backing, grouting and cleaning, before returning to mount the artwork in its new home.
Moor House School & College Principal Helen Middleton said: "It was really enjoyable seeing the whole school and college community, including students and staff, all come together on this project.
"The result looks fantastic. I can immediately point to the pieces I stuck on and I'm sure many of the students will be able to as well. The great thing is we'll see it every day as we eat our lunch and can feel proud to have been part of it."