Pupdate #2 - Molly and Bourbon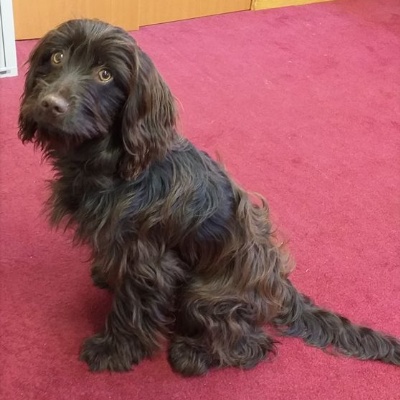 Molly and Bourbon are now 9 months old and very settled into school and college life.
They meet students in the corridors and love tummy rubs and all the attention. A number of staff regularly walk them and they are well socialised. Molly is just starting to make short guest appearances in classrooms in a carefully controlled manner (initially avoiding contact with any children who are particularly nervous around dogs) and will be commencing her training with young readers shortly.
Molly passed an initial assessment of temperament which was carried out by Canine Concern in December as part of membership of a literacy dog scheme which is run to Kennel Club standards. She then had a lovely Christmas – the highlight of which was receiving a stuffed turkey which flaps its wings when you squeeze its tail! She has also developed a taste for carrots!
Bourbon continues with her weekly training of which she is now on level 2 obedience and is getting used to socialising with some of the other dogs there. She is spending time in the school and college environment working on sitting to be stroked and walking rather than trying to run, which will take some time! Bourbon enjoyed her first Christmas - the new smells, sights and sounds were all very exciting!