Ofsted double for Moor House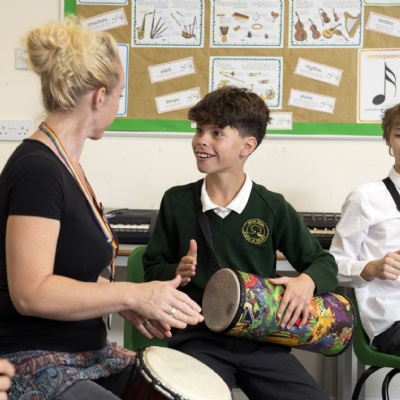 A specialist School & College for children with language disorders has celebrated an Ofsted double after being rated Outstanding twice in as many months.
Inspectors rated Moor House School & College Outstanding in all areas following a Social Care Inspection in October, whilst the same outcome was achieved from an ungraded education inspection in November.
Based in Hurst Green, Oxted, Moor House is one of very few schools in the country specialising in supporting children with Developmental Language Disorder (DLD), a hidden but common communication disorder that affects 1 in 14 people causing difficulties understanding and using language for no known reason.
'Pupils at Moor House School and College are happy, confident and eager to learn' according to inspectors, who say 'the impressive, collaborative, multidisciplinary approach ensures pupils make outstanding progress with their speech and language.' They also commented that "all staff have extremely high aspirations for pupils." and that leaders have carefully crafted a unique curriculum which suits pupils and their SEND very well.'
The excellent residential care provision, rated Outstanding for an 11th consecutive year, also 'ensures that children are able to achieve beyond all expectations'.
Ofsted praised pupil behaviour, saying that "Pupils behave extremely well. They are friendly, respectful and remarkably supportive of each other. The school and college are welcoming, studious environments in which pupils develop into self-assured young adults. Staff know and understand pupils exceptionally well. They are united in their desire to equip pupils to be as independent and successful as possible in adult life."
The reports also highlight:
The arrangements for safeguarding are effective.
Highly skilled staff enable pupils to realise that they can overcome their barriers to learning.
The impressive, collaborative, multidisciplinary approach ensures pupils make outstanding progress with their speech and language.
Pupils benefit from a wide range of helpful strategies and approaches, which are used consistently by staff.
Pupils learn to use a wide range of useful assistive technologies.
Pupils are helped to understand their own emotions and develop a positive self-image.
Staff appreciate the support they get from leaders and how well everyone works together to share expertise.
Staff truly care about the children and talk fondly about them.
Activities and trips are tailored to the interests of children and give them new and stimulating experiences.
There is a strong culture in the school of understanding a sense of duty to raise awareness of DLD in the world outside.
A bespoke 'Wheel of Independence' programme helps to ensure that every child can develop their life skills, which add value to their lives away from school.
The whole school has a clear understanding of the importance of safeguarding and the need for vigilance by all members of staff.
Information-sharing is prompt and centred around the child.
Helen Middleton, Principal of Moor House School & College, said: "We are extremely proud of the outcomes our students achieve and receiving a judgement of Outstanding for both Education and Social Care is exceptional and a credit to our staff across all departments who work so hard to make Moor House a wonderful place for students to learn and thrive."
The full Social Care report is available to download here
The full Education report is available to download here