Moor House celebrate a decade of outstanding provision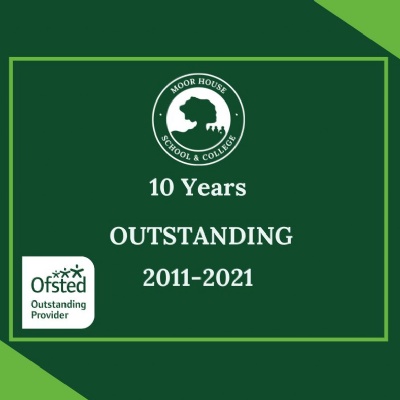 Moor House School & College is celebrating a decade as an outstanding provider after Ofsted praised 'the significant and sometimes spectacular' progress of children following a Care Inspection last November.
A specialist school and college for children and young people with language disorders, the report described the support received by students in developing life skills and independence as 'exemplary', with residential students 'guided and nurtured by a team multi-disciplinary staff who work diligently and tirelessly to ensure they develop and progress to their full potential.'
Based in Hurst Green, Oxted, Moor House is one of very few schools in the country specialising in supporting children with Developmental Language Disorder (DLD), placing added significance on its residential provision.
The report also highlights:
Residential students' feedback is unanimously positive and reassuring
Parents report that their children see the school and college as a family
Relationships between staff and all students are strong, warm and caring
Individual care plans are bespoke and developed using the wide knowledge available from all professionals who work in the school and college
Many [students] go on to attend external colleges and gain employment. These achievements are remarkable when bearing in mind their starting points
Residential students' safety and well-being is at the centre of practice
Emotional safety is promoted to an excellent standard
Mutual respect and tolerance of difference is a significant strength in this school and college community
Behaviour observed by inspectors was excellent
The leadership response to the demands of the COVID-19 pandemic has been exemplary
Praise for the school and college and the positive impact it has on student's lives abounds
In the ten years it has been judged outstanding by Ofsted for both Education and Care, Moor House has grown significantly, with 187 students on roll in 2022 compared to 70 in 2011. This period has also seen the introduction of day students in 2011 and Post 16 students in 2012, as well as the opening of new student accommodation in 2016.
A research and training institute, established in 2018, also ensures school and college provision follows the most current evidence and best practice whilst also sharing expertise externally.
This year, as it celebrates its 75th Anniversary, Moor House continues to look to the future with the imminent opening of a new Specialist Therapy & Teaching Hub to improve its provision further and build better futures for more children and young people.
Helen Middleton, Principal of Moor House School & College, said: "We are extremely proud of the outcomes our students achieve and that we have sustained an outstanding level of provision over such a long period of time, particularly in view of our growth and the more recent challenge of the COVID-19 pandemic.
"The achievement is a credit to our exceptional staff across all departments, who work so hard to make Moor House a wonderful place for students to learn and thrive."
The inspection took place under the social care common inspection framework between 15-17th November 2021.
The full report is available to download here