Life skills tool a remote success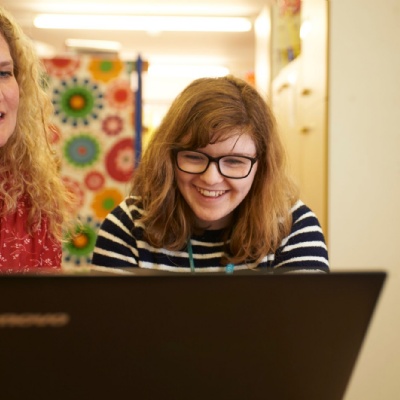 Whilst remote learning has inevitably presented challenges for parents and educators over the past year, one real positive has been the increased
collaboration with parents in developing life skills using The WHEEL OF INDEPENDENCETM Framework, according to Occupational Therapists Debbie Burridge and Martha Ni Fhlatharta.

Developed at Moor House, the WHEEL OF INDEPENDENCETM Framework is an online tool used to track progress and measure outcomes for independence and functional life skills based on eight skill areas related to activities of daily living at home, college/school and in the community.
Speaking in the latest Moor House Podcast Debbie said: "Before COVID we'd never really imagined using it in this way, but it's been a happy accident that it's been fantastic for this [remote] use.

"Because it's so visual, being able to screenshare so both the student and parent can see what you're looking at, it's really fitted together well and made it easy to follow."
Martha, who uses the tool extensively as part of her support to students, added: "I've found it [using the tool remotely] really helpful during lockdown and an invaluable resource for collaborating with parents.
"It really assisted in building a rapport and gave them a clear pathway of where to start introducing life skills at home.
"I had one parent who initially felt quite overwhelmed with all the work and emails from teachers. But when we sat down with the WHEEL OF INDEPENDENCETM Framework, we were able to make a really good plan which allowed the student to get all their therapy input and improve their skills just by doing household tasks.
"Mum would record videos of the tasks and send them to me in advance of the next session and together we'd problem solve strategies; I could make visuals to support the student and we had some great three-way discussions."
And Debbie agrees that the increased collaboration with parents has only enhanced the tool.
"I think in the past we've had the therapist working with the student at school and the parent has perhaps given us some information over the phone or by filling out a form, whereas with remote learning we've shifted to having three people on screen that's enabled some quite open and honest conversations.
"Quite often the student might say 'I can do that' and then the parent will say 'actually, think back,' so it's been a nice gentle way of having those conversations and sometimes it's been quite amusing to watch the back and forth between the student and parent but I think it's made the student really think about what they've achieved and also helped the parents sometimes realise the students can perhaps achieve more than they expect."
So, will they continue to use it remotely after lockdown ends?
"At the moment we're doing a lot online and it feels a bit exhausting" says Debbie, "but going forward I'll continue to use the WHEEL OF INDEPENDENCETM Framework online, even if we've got the student in the school/college setting to involve the parents where possible because that open communication between the therapist, student and parent is really important."
The full interview is available on the Moor House Podcast.

For more information on The WHEEL OF INDEPENDENCETM Framework and to request a FREE trial, click here.