Therapy and Specialist Teaching hub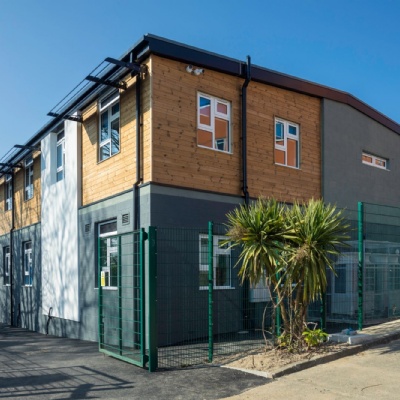 The final phase of our long-term (2010-2019) strategic development plan set out to deliver a new enlarged facility for Pottery and Design Technology and a specially designed Therapy and Specialist Teaching Hub.
The first element of Phase Four was successfully completed in Summer 2019 and involved the demolition of the Pottery and Design Technology (DT) building which was well beyond its useful life. It has been replaced with a new enlarged facility for DT and Pottery. This is a vital development because our students enjoy and do so well at these subjects and achieve outstanding results and because of the poor condition of the old building. The new building, now complete, is fit for purpose and a third bigger than the old building.
The second part of Phase Four was a brand-new two-storey Therapy Hub building at the heart of the campus. The new building, opened in 2022, provides a vital space for Speech and Language Therapy, Occupational Therapy and a purpose-built sensory room as well as versatile teaching space.
In addition to school funds and community fundraising we are very grateful to have received strong support from the following Trusts and Foundations for this phase of the project: Combe Bank Educational Trust; St James's Place Charitable Foundation; Garfield Weston Foundation; Goldman Sachs Gives; Wolfson Foundation; Laing Family Trusts; Peter Harrison Foundation; Edward Gostling Foundation; Bernard Sunley Foundation; EBM Charitable Trust; 29th May 1961 Charitable Trust.