Finding the right environment: George's story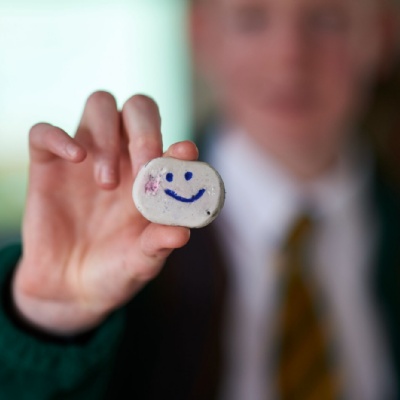 Creating the right learning environment is crucial to a child's development. Moor House School & College provides a specialist environment for children and young people with speech and language disorders, where the educational needs of each individual student can be met.
Current Moor House parent, Simon Sergides, explains what led his son George (12) to the school and the difference it has made to his life.
"I think we first noticed George was having difficulties around the age of 3" says Simon.
"George was our first born so we didn't really have any experience or measure as to what typical development was in terms of his speech.
"He was a happy kid and we as a family were very in tune with him, so home life wasn't much of an issue. We understood him instinctively but that perhaps also masked some of the indicators from us.
"We noticed that his struggles to find and recall words would trigger real frustrations for him mid-sentence, and when others repeated things he'd said, we began to realise how much we were compensating for him.
George started in a mainstream nursery and school setting, but by year 3 the challenges were becoming clearer.
"We decided to instruct a private educational psychologist and that was probably the best thing we ever did" Simon continues.
"It shined a light on some of the challenges he was having and triggered various assessments including occupational therapy, psychotherapy and speech and language.
"On paper, the support he received in a mainstream setting was a fair amount, but the reality was it was inconsistent and that made it challenging. It certainly wasn't a whole school approach.
"I'm not sure we really understood what a difference a specialist setting could make but the more we looked into his behaviours, we realised the environment was crucial.
"Moor House was recommended to us by numerous sources so we came to an open day and what I witnessed was genuinely happy and engaged staff and children.
"Instinctively we knew it was a special setting and felt strongly it was the right place for George. We went through the admissions process, which was tough because we'd become emotionally invested.
"On paper the pre-admissions process should have been an epic failure. George's anxiety should have overwhelmed him. He even had to do an overnight stay because we were looking at residential.
"The reality was when we got the letter to say yes, we think this is the right setting for George. What was amazing was that when we asked him what was it like? He literally replied with one word, 'heaven'.
"When we spoke to his psychotherapist afterwards to try and decode why he said that. It was because he felt like he could contribute, that people got him and he could access what they were doing.
"That showed to me in just one day the difference a specialist setting could make.

You can hear the full interview with Simon in our Parent View Podcast.